charloween
Doctor Who
, 4x09: only half-watched this one because the first part could have been more captivating.
First of all: powered by the heart of an orphan, much?
I don't agree so much with flipping between the Doctor, Donna and the little girl. It breaks the flow of the story too much.
I think the episode should have started with the scene where Dr. Moon comes into Donna's bedroom in the institution, without the bit with the girl in the room at first.
There were some great bits, but it seemed like it was all put together wrong. Like it needed a second draft.
I did like Tennant's acting after River whispered in his ear. The reaction and then the bounce-back through manic energy was just lovely. And his smile at the very end, after he snaps his fingers to open the TARDIS door. And the jump over the library cart.
Also fun was hearing Tennant say "Charlotte" those few times. *goes to happy place*
I also liked the handcuffs. She's someone to be reckoned with if she can get him restrained... and, you know, punch him out.
But so much more was so slightly off. Like, I got the safe/saved thing at the end of last episode. And I've known that books are made from trees for, like, years. I'm
not
supposed to be swifter than the Doctor. When I am, I start to resent him a little. And resent the writer more.
And the repetition of previous Moffat stuff (the "everybody lives" stuff, among others) was tiresome. Yes, it's a nice theme and yes, when it first showed up three seasons ago it shed quite a poignant light on the kind of person the Doctor is and the kinds of situations he's in. Here, however, it's retreading old ground.
Another thing that didn't really work was River's constant "one day you'll trust me" thing, because that means beans when you need to have something to go on right then. Grrrr. Their relationship got a bit more believable around the part where the Doctor was handcuffed (*rrrowr*) and there was finally some kind of accounting for her asshatty behaviour during the entire two-parter.
The ending. Not sure how I feel about that. Woo River's happy and everyone is wearing white and free from transcription errors: and just like the rest of the series, death is something to fear and fight against and not accept with grace. And how cruel is it to have that stuttering guy be actually real? That's a creepy thing to do to a character, to leave him unable to call out to the woman he loved?
(
EDIT
: If we're supposed to believe that this River Song woman is the Doctor's One Tru Wuv (or something), where does that leave Rose? Lost and alone in another dimension, bwhahaha.)
Today I spent the afternoon at High Park, and we found an ISBN'd building (click to see the big image):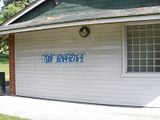 ...and a "Natural Regeneration Area", lol: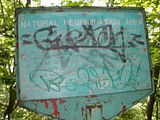 ...and this poor peacock that had its tail clipped and so looked like a dressed-up turkey (
EDIT
and as

butterflyishida
rightly points out, the poor peacock is so ugly he's now hanging out with the wallabies):