charloween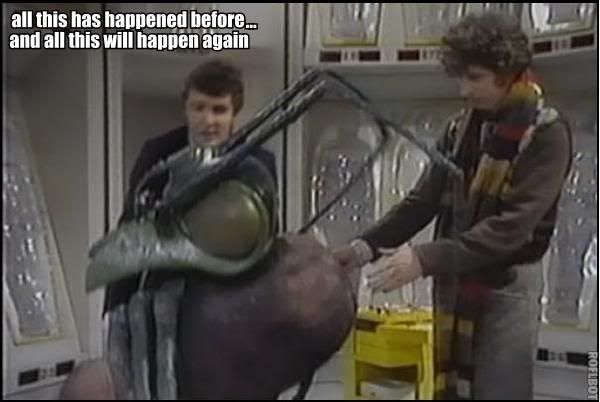 ...And then not a macro, but some pre-ep mumbling for DW 4x13:
The biggest question is where the deus ex will come from. (Not if there will be one. There
has
to be one.)
- if Daleks keep breaking out of that Time Seal, why can't the Time Lords? Or were they all on Gallifrey when it burned?
- it would be cool if Martha's OMG DO NOT USE key unlocked some kind of trans-temporal TiVO and they got to time shift their way out of this mess
- possible way-to-get-Earth-back plot: creature with powers (Jenny, another Time Lord - Nine or the Master, the Face of Boe, a consortium from the 51st century, whatever) are tracking the missing planets and make a stopover on Shadow Proclamation place and gain their assistance.
- Shadow Proclamation lady
did
declare war. Is this Time War II?
- knowing about Teim Bug II lets Donna pop back in time, find that
other
important choice and save everything.
...okay, have to go play Risk now.